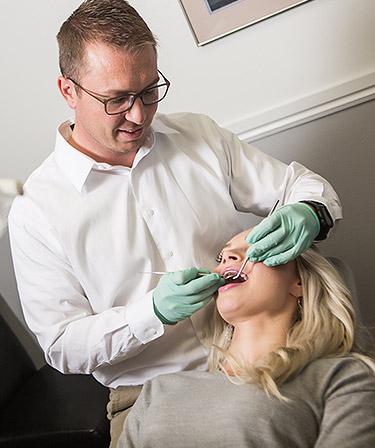 Dr. Jarron Tawzer DMD received his Bachelors Degree from Utah State University, graduating with a degree in Kinesiology and Chemistry. Dr. Tawzer completed his dental training at Oregon Health and Science University in Portland, Oregon where he graduated at the top of class clinically. After dental school, Dr. Tawzer began practicing in Southern California while continuing advanced training in the placement and restoration of dental implants, cosmetic dentistry, and root canal therapy. He and his family are happy to be back in Logan and Cache Valley. His favorite aspect of dentistry is developing lasting relationships with his patients.
Dr. Jarron Tawzer DMD is dedicated to making sure his patients are comfortable and in control of their own dental care. By keeping patients informed of their options and utilizing leading-edge technology to help them clearly see their dental problems and choices. The Best Logan Dental Clinic in Cache Valley Utah.
At Tawzer Dental, we welcome new and returning patients to experience our wide range of dental services. We are committed to giving you the best and most comfortable dental treatment.
Dental Services Offered include: Cosmetic, Restorative, Preventive, Prosthetic, Implants, Extractions, and Invisalign.
You can contact Jarron Tawzer at his Logan Dental Clinic in Cache Valley Utah - TawzerDental. His Clinic is located at 150 E 200 N, Logan, UT, 84302. His office phone number is (435) 753-1686 and his website TawzerDental.com. You can connect with him also at Blogger or at Issuu